Worth knowing!
Stress is the body's reaction to situations causing negative emotions, problems, unpleasant events. Stress negatively affects both mental (anxiety, fear, irritability, fatigue, anger) and physical health (increased sweating, headache, digestive problems, weakened immunity). It is very important to recognize stress and manage it in time before it becomes chronic.

What can you do to help yourself?

Prioritize. Sometimes the situation in our mind seems much worse than it really is. Try to write it down. Write down all the problems, all the possible solutions, all the steps in the paragraph. Start with small, easy things to do.
Go out for a walk. A walk in the fresh air, in nature, will allow you to relax and relieve the symptoms of stress.
Take time for yourself. A break from everyday problems is simply a necessary condition for stress management. Do something you like – read a book, do crafts, exercise, meet friends.
Get adequate rest. Nors vakarienė draugu rate ar vakaras su filmu skamba kaip puikus atsipalaidavimo būdas, vis dėl to svarbu nepamiršti svarbiausio – kokybiško miego.
Avoid things that cause negative emotions. Try to distance yourself from aggressive, critical, insensitive people. Set limits on how much time you spend per day reading the news. In your free time, choose books or movies that evoke positive emotions.
Don't be afraid to ask for help. Talk to loved ones. Perhaps they will be able to help you solve the situations that have arisen or give you useful advice. Contact a Wellbeing Consultant for help.
In order to acquaint the employees of the applicant, partners and cooperating institutions with the principles and methods of welfare consultant services, to teach them to recognize situations and problems that can be solved by the help of welfare consultants, seminars on inclusion in the model are conducted. It is very important to be able to provide the acquired information to potential clients of the welfare consultant, and to motivate them to use the services.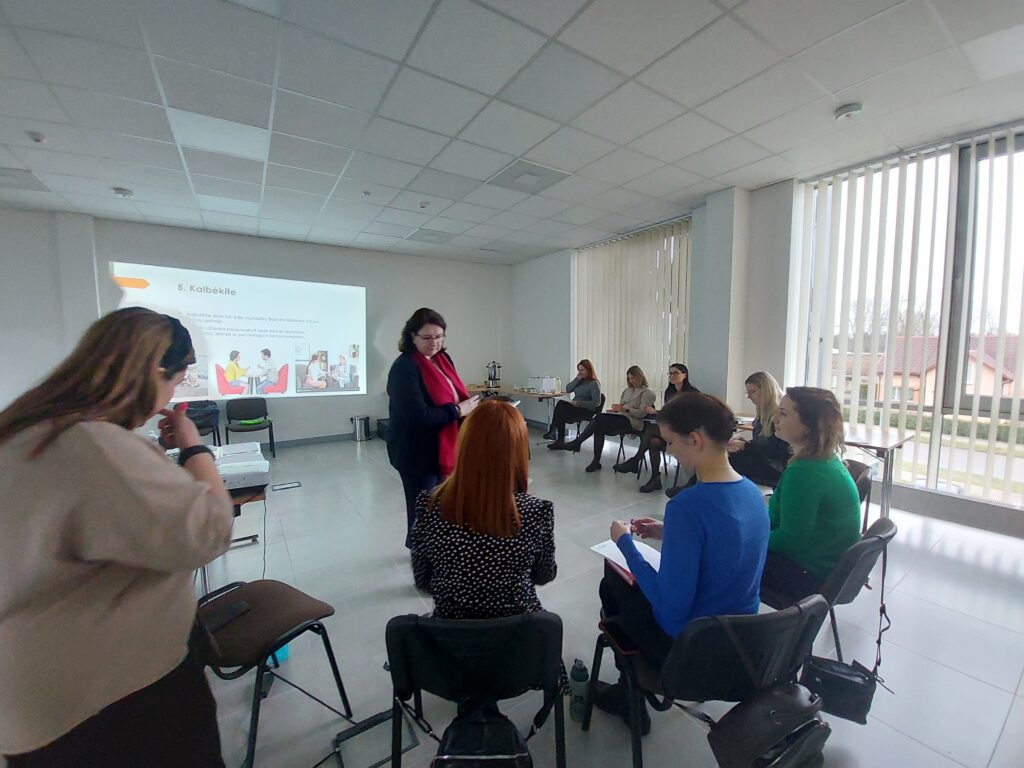 Wellbeing counselors provide low-intensity emotional counseling services based on cognitive behavioral therapy. Cognitive behavioral therapy is one of the most popular and effective types of therapy, its effectiveness has been proven by clinical studies.
Cognitive behavioral therapy is rapidly gaining popularity, as the modern pace of life and the growing needs of people encourage the search for a quick, goal-oriented way of solving problems. Cognitive behavioral therapy helps to know and understand how a person's thoughts, emotions and behavior are connected, allows a person to find more suitable and better ways of solving problems than were used before. Cognitive behavioral therapy is based on evidence that our well-being does not depend on what happens to us, but on how we accept and react to it. People are used to thinking that certain events cause anger, sadness, joy, but different people, or even the same person, react differently to the same event at different times.
The goals of cognitive behavioral therapy: to allow you to get to know yourself better, to strengthen self-control, to recognize harmful thoughts and to change them, so that the person's attitude, beliefs, attitudes do not hinder, but help to live, to form personal behavioral skills, to take such actions that will produce the desired and expected results.
During the therapy, the person applying is taught to live "here and now", thanks to the acquired knowledge, he learns to solve his problems independently.
In order to create a systematic handout of the services provided by welfare consultants, which could be distributed in print and online forms, the welfare consultant newspaper was created. The printed form of the newspaper will be distributed through various district institutions, organizations, wards and communities.
We invite you to read the online version of the newspaper or download it in PDF format here
Welfare consultants Julita Šiemaitė and Ginta Kazlauskienė presented the services of a Welfare consultant to future graduates at the Mosėdis high school in the Skuoda district, and talked about how to prepare their psychological health before exams and settlements. Introduced methods of raising your self-esteem and discussed what self-confidence is.
On October 5, on the occasion of Teachers' Day, Welfare consultant Julita Šiemaitė tried out the role of a teacher – she conducted a lesson for the students of Mosėdžių Gymnasium in Skuoda district. During the lesson, high school students had the opportunity to try the Cognitive Behavioral Therapy round, performed various psychological self-analysis tests.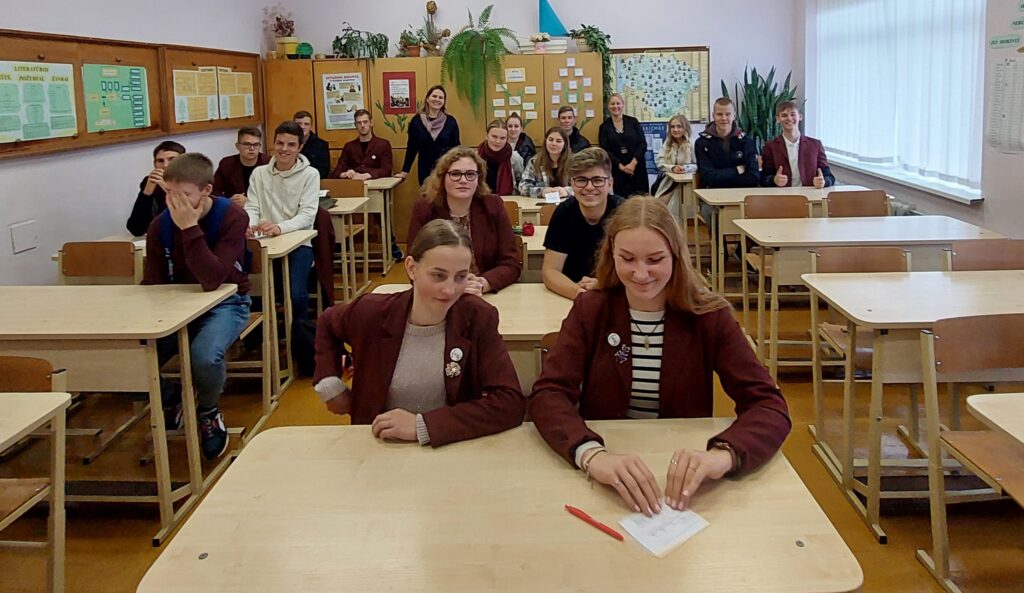 The public opinion formation video clip "For others is worse" was created for the project "Implementation of the model of welfare consultants in the municipality of Skuodas district". The video clip was created in order to increase the awareness of the welfare consultant's services, to change public opinion about the need for human mental health treatment in the virtual space. It is important to understand that you should not compare yourself to others and think that personal problems are unimportant or not worth solving, because others have it worse. We encourage you to accept help and feel good regardless of how others feel.
We invite you to watch the video here
On September 27, an article about the services of welfare consultants was published in the Skuodas district newspaper "Mūsų žodis". –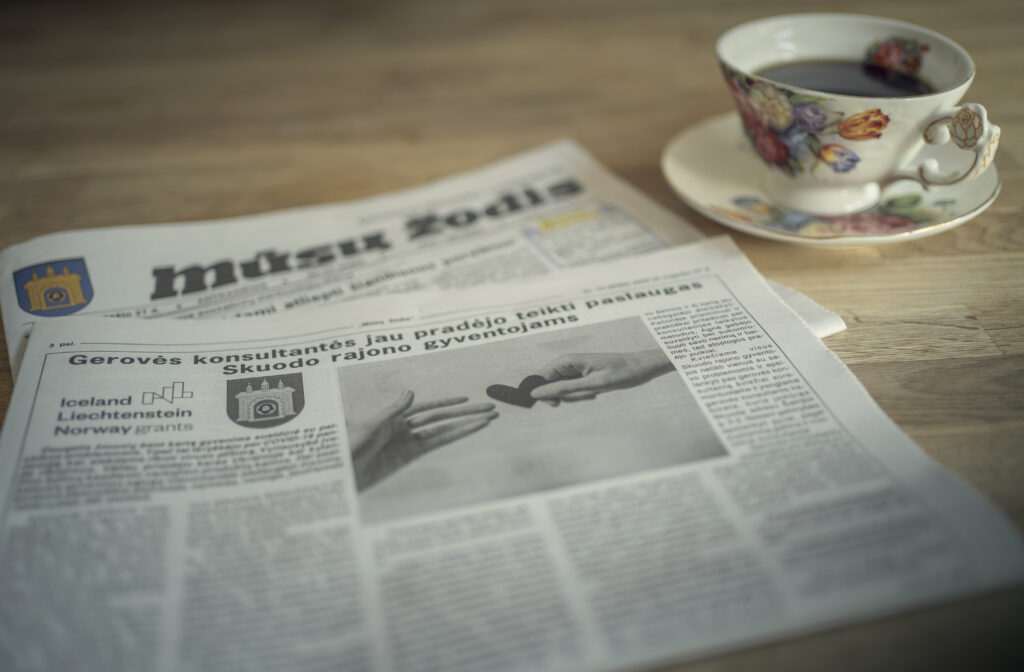 The residents of Skuodas district, dressed in opinion-forming merchandising, send a positive message about the service of welfare consultants in a good mood at the city festival.
The welfare consultant's educational posters have already been printed and displayed on various institutions in the Skudos district.

The educational posters present the services of a welfare consultant and provide contacts of welfare consultants. Designs are created taking into account the age of the target groups (youth, adults and the elderly).
Wellbeing consultants have already completed 6 months of training and are ready to provide counseling.
Skuodas district welfare consultants Julita Siemaitė and Ginta Kazlauskienė invite all Skuodas district residents over the age of 18 to register for a consultation, who feel stress, worry, suffer from insomnia or depression, or have experienced a loss. During the meeting, welfare consultants will help you look at existing problems from a different perspective. We will look for the reason that causes unpleasant emotions and at the same time look for the best ways to change those emotions into pleasant ones.
Consultations are free.
In the welfare consultant's office, there are two tables, two ergonomic specialist chairs, a lockable file cabinet, a closet for methodological tools, a wardrobe, a hanging mirror, chairs for guests, a coffee/coffee table, a rocking chair, a sofa and an armchair.
The office of the welfare consultant is equipped with office and organizational equipment – a laptop computer with software, a multifunction printing – copying machine, a telephone, a paper shredder machine.
In order to create suitable and modern working conditions, to facilitate communication between the Welfare consultant and the client, a coffee machine and a water dispenser were purchased.
It is possible to offer warm tea or coffee on a cold winter day or fresh water on a hot summer day.
On February 18, 2022, a contract was signed with UAB "Skobartas" regarding the renovation of the welfare consultant's office."
On 04/04/2022, the repair work was completed.