On September 27, an article about the services of welfare consultants was published in the Skuodas district newspaper "Mūsų žodis". –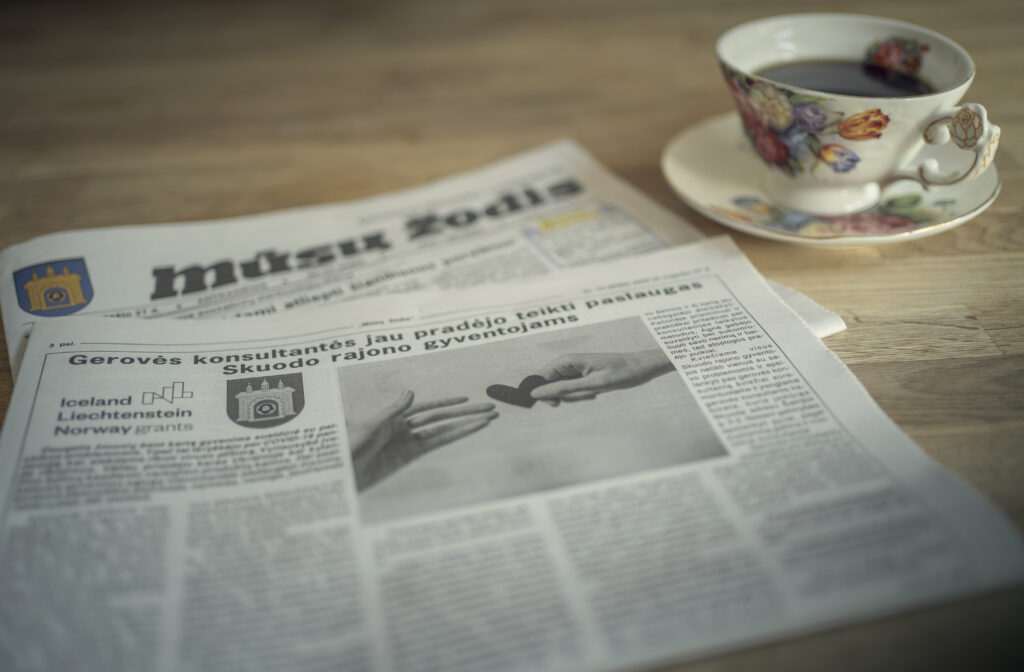 The residents of Skuodas district, dressed in opinion-forming merchandising, send a positive message about the service of welfare consultants in a good mood at the city festival.
The welfare consultant's educational posters have already been printed and displayed on various institutions in the Skudos district.

The educational posters present the services of a welfare consultant and provide contacts of welfare consultants. Designs are created taking into account the age of the target groups (youth, adults and the elderly).
Wellbeing consultants have already completed 6 months of training and are ready to provide counseling.
Skuodas district welfare consultants Julita Siemaitė and Ginta Kazlauskienė invite all Skuodas district residents over the age of 18 to register for a consultation, who feel stress, worry, suffer from insomnia or depression, or have experienced a loss. During the meeting, welfare consultants will help you look at existing problems from a different perspective. We will look for the reason that causes unpleasant emotions and at the same time look for the best ways to change those emotions into pleasant ones.
Consultations are free.
In the welfare consultant's office, there are two tables, two ergonomic specialist chairs, a lockable file cabinet, a closet for methodological tools, a wardrobe, a hanging mirror, chairs for guests, a coffee/coffee table, a rocking chair, a sofa and an armchair.
The office of the welfare consultant is equipped with office and organizational equipment – a laptop computer with software, a multifunction printing – copying machine, a telephone, a paper shredder machine.
In order to create suitable and modern working conditions, to facilitate communication between the Welfare consultant and the client, a coffee machine and a water dispenser were purchased.
It is possible to offer warm tea or coffee on a cold winter day or fresh water on a hot summer day.
On February 18, 2022, a contract was signed with UAB "Skobartas" regarding the renovation of the welfare consultant's office."
On 04/04/2022, the repair work was completed.